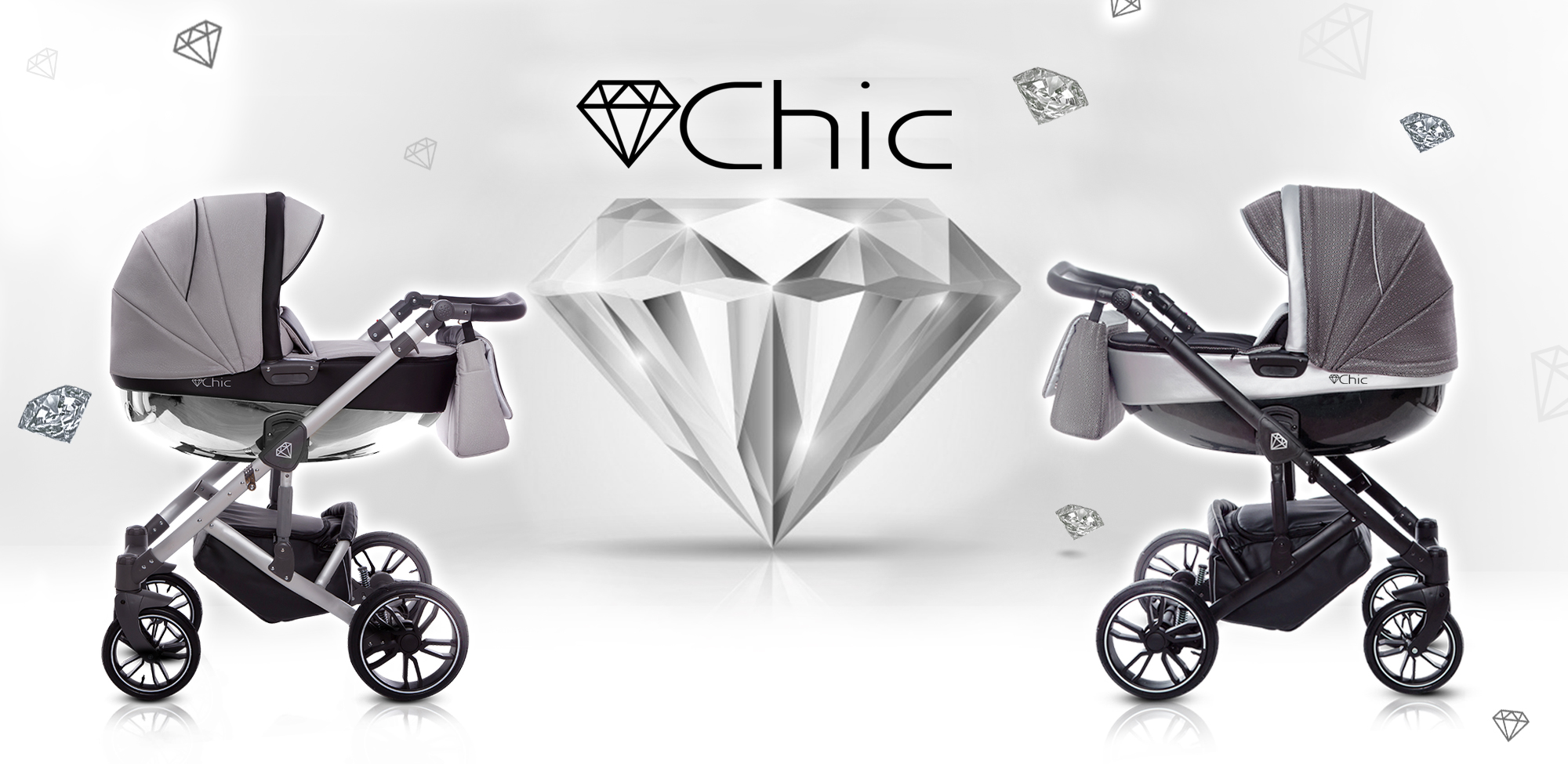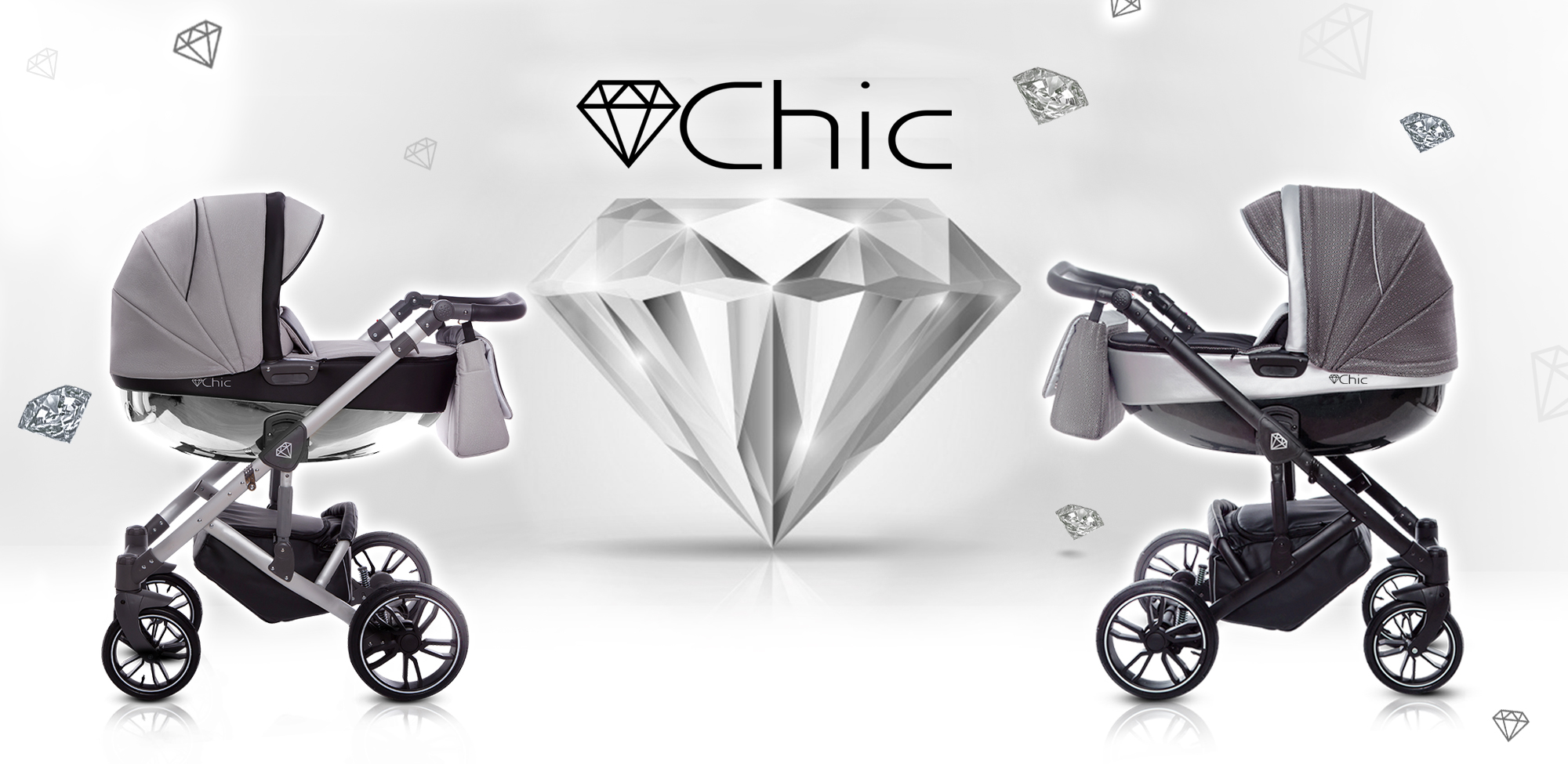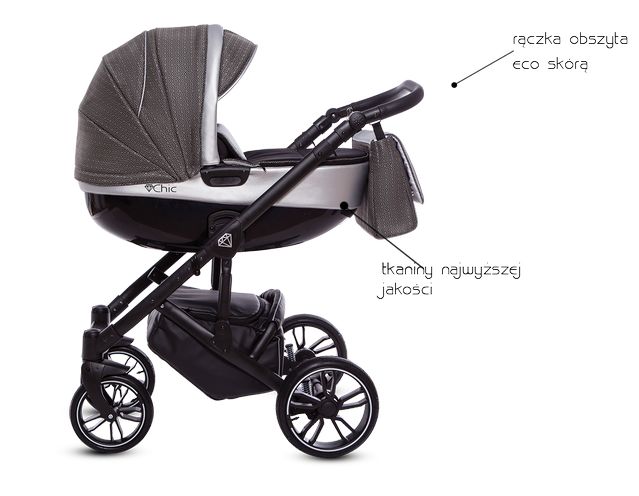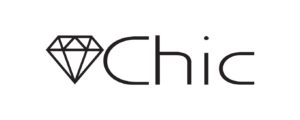 Chic 
– This new collection of strollers will accompany you and your child from an early age. It has been created based on our long experience and modern design. Jacquard fabrics connected with metalized leather create a set with timeless elegant design. This set consists of a carrycot and a stroller. Both the carrycot and the stroller have multi-position reclining backrests which will give your child comfort. The stroller has also got a multi-position footrest. Additionally, a carrycot cover is equipped with magnets which make it easier to attach it to the carrycot. The carrycot cover also functions as a windshield. Waterproof fabrics will make you ready for all types of weather. A practical bag and a large storage basket made of artificial leather will hold all the necessary accessories. Different stroller elements can be changed within a few seconds. A brilliant stroller frame is easy to use. Low weight and a practical design make it easy to fold the stroller and put it in a car boot. Additionally, there is a possibility to make the stroller 3in1 by purchasing a Kite child car seat in a chosen colour. 

Safety is our priority
All our products meet the highest safety standards. Our stroller holds the European safety standard EN 1888 – which specifies safety requirements and test methods for strollers. All our fabrics hold Oeko-Tex Standard 100 certificate. This is why they ensure safety of your child. Additionally, as a manufacturing company with the highest quality of products, we have our products tested on a regular basis to rule out the presence of harmful substances. This confirms we use the best materials available.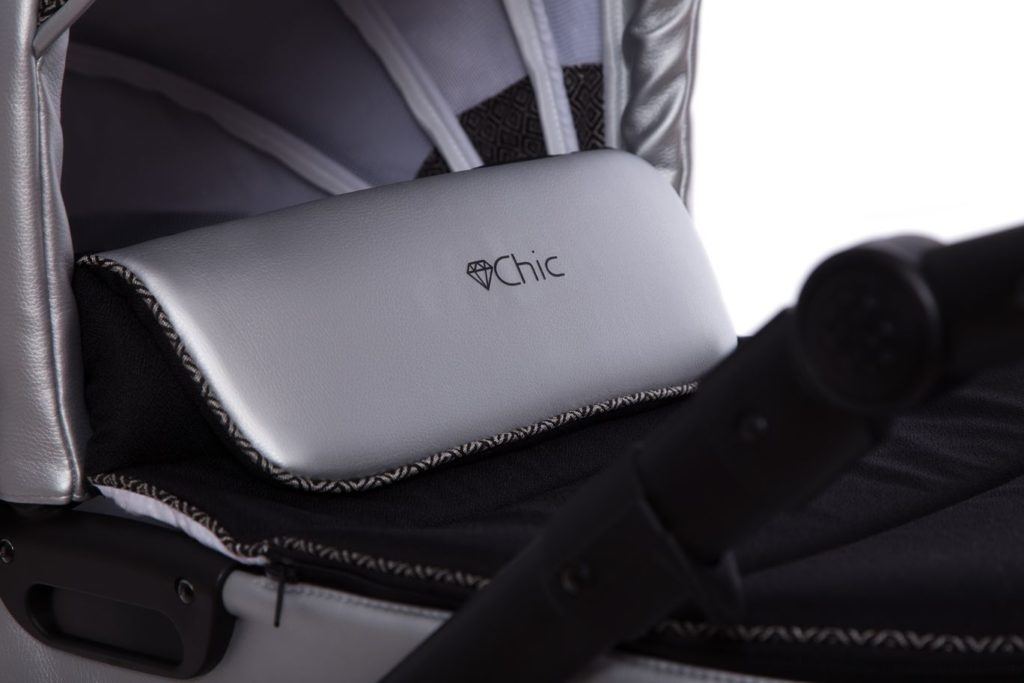 The trendiest design – The Chic strollers are very esthetic and eye-catching. Modern colours and design plus huge gel wheels with high quality rear suspension which allow the stroller to be comfortably used on all surfaces and in all weather conditions guarantee the best visual impressions for the most demanding parents. Every accessory as well as a large nappy bag are made tastefully and in accordance with the latest trends.
CHIC strollers are equipped with an additional ventilation system. Span> Zippered, hidden windows provide perfect flow air and the built-in mosquito net will protect the baby from insects.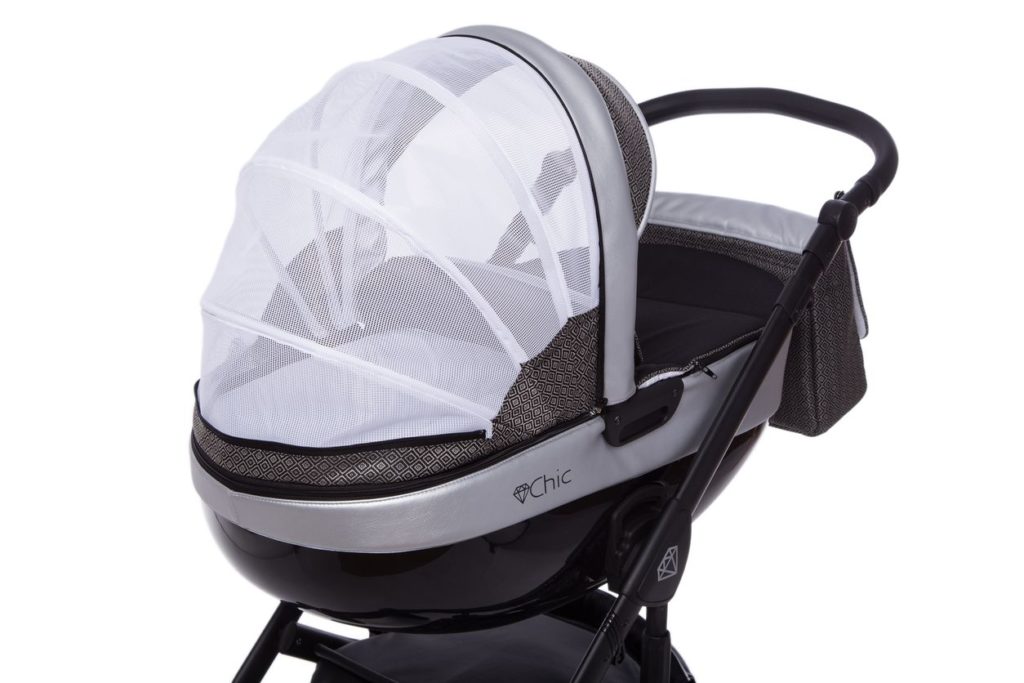 SEAT POSSIBILITY  FRONT OR BACKWARDS DIRECTION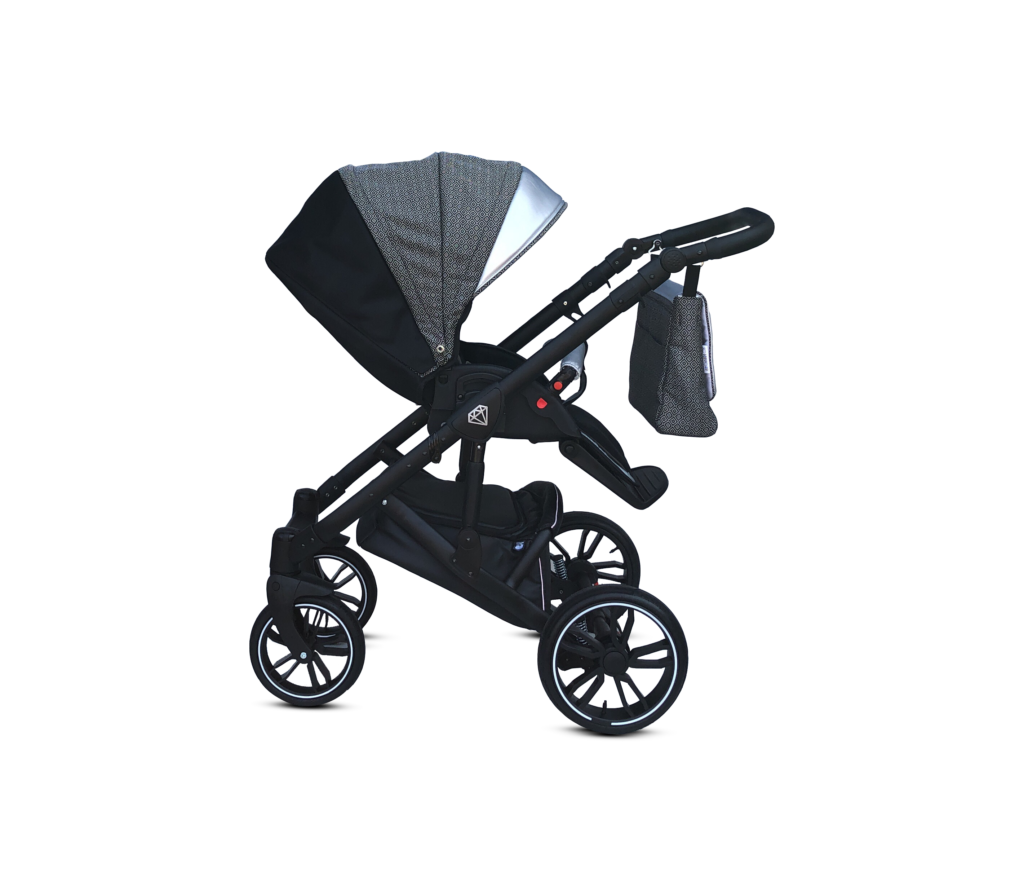 CHIC walking version through a special attachment, it allows the stroller to be rotated so that it is facing forward and backward in the direction of travel, thanks to the easy attachment mechanism on the frame.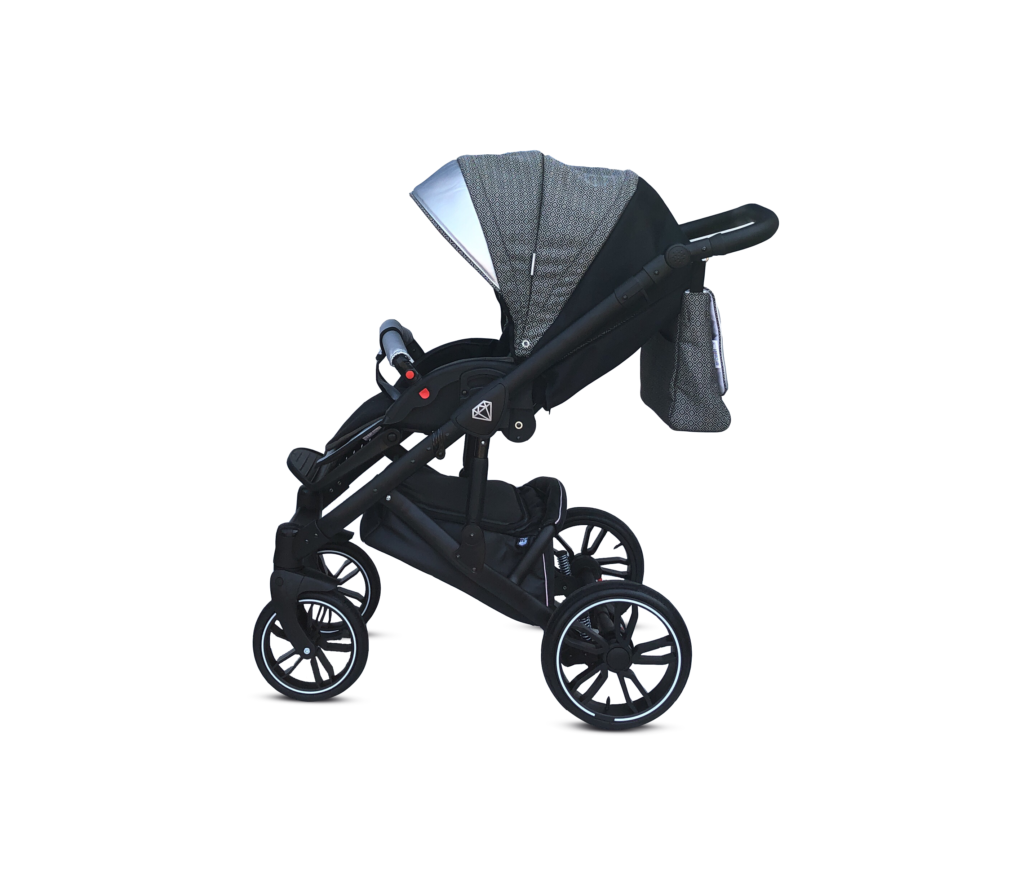 What you will find in the set:
In the 2 in 1 set:
aluminum frame
a gondola equipped with a booth, a cover and a soft mattress
a stroller seat equipped with a booth and a child's leg cover
gel wheels
changing bag
capacious, lockable shopping basket
raincover
In a 3 in 1 set:
aluminum frame
a gondola equipped with a booth, a cover and a soft mattress
a stroller seat equipped with a booth and a child's leg cover
gel wheels
baby carrier up to 10 kg in pram color
adapters for mounting the seat (baby carriers) in the pram frame
changing bag
capacious, lockable shopping basket
raincover
In a 4 in 1 set:
aluminum frame
a gondola equipped with a booth, a cover and a soft mattress
stroller seat equipped with a booth and baby leg cover
gel wheels
baby carrier up to 10 kg in pram color
isofix database
adapters for mounting the seat (baby carriers) in the pram frame
changing bag
capacious, lockable shopping basket
raincover